SPECIAL RECOGNITION TO DOBERGARD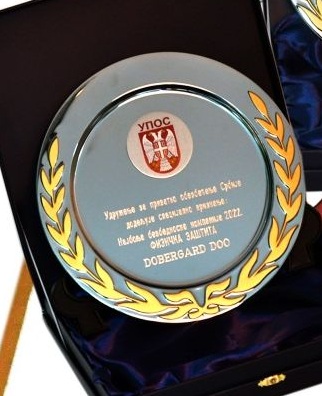 The Private Security Association of Serbia awarded a special award for the best security company in the field of physical protection to DOBERGARD
All News You can see HERE

DOBERGARD Ltd. got the Police licences and fully harmonized business with the Law on Private Security , and all current and potential customers is available with complete service in the field of security.

- Because we are continuously since 2004.
- Because all the resources we have in the property (office building, vehicles, equipment ...).
- Because we have all licenses and certificates for security affairs.
- Because we additional assure all clients against damage.
- Because since 2004 we regularly pay taxes, workers, suppliers.
- Because we are a local company and all negotiate directly with the owner.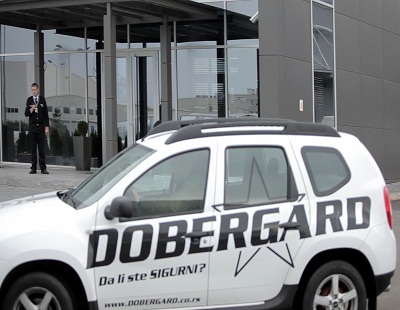 PHYSICAL SECURITY


Professional physical security and fire protection of buildings of all types and levels of risk, with a maximum-equipped and trained security officers, and logistical support Intervention Teams and the Control Center from 00h to 24h.
Physical security is our main activity, and certainly the best quality services on the market!


MOBILE GUARDING


Periodically visit the facility by the patrol teams DOBERGARD in different time intervals from a preventive and repressive security function.
Depending on the type of facility and the needs of the client, mobile security is carried out 1,2,3 or 5 times in 24 hours, or, if necessary in emergency situations.

DOBERGARD man guarding and mobile guarding
ALARM MONITORING




Professional installation of alarm systems PARADOX Canada (operator, siren, sensor, keyboard, battery) with connection to the Operational Center DOBERGARD that is on duty 24 hours a day. The Operations Center to register any changes to the object (on / off the alarm, system fault, communication problems, loss of power, alarm situation in the zones of vulnerability, periodic tests, etc.). In case of alarm situation, the operational center sends the intervention teams and works with the defined plan of action.





VIDEO

MONITORING




Professional installation of video surveillance and connection with operational center DOBERGARD enables remote monitoring of the protected object and the intervention of security services in crisis situations. It is an ideal solution for small and medium enterprises in combination with an alarm-monitoring and mobile security, because it significantly reduces the costs for physical safety: while providing optimum security.




CASH IN TRANSIT


The fastest and safest way of delivery of value packages and transfer of money and valuables, with services "Cash in transit" and organized surrender takings in the bank. These tasks are performed by specially trained and equipped officers DOBERGARD in special vehicles. We provide full value to be transferred, and we have special offers for customers who have a daily need for this service (banks, exchange offices, retail chains, etc.).

F

IRE PROTECTION SERVICES


A fire prevention officer, Service

fire protection

apparatus and hydrants, plans for fire protection and other normative acts, as well as training staff in fire protection.


OFFICIAL DOBERMANS
Official Doberman Kennell for security is an internationally certified (FCI 3922), with numerous awards in exhibitions and matches. Provide services of education and training of guard dogs for security of persons and objects.
FIRE UNIT
DOBERGARD expanded its activity and the only one in Serbia formed a firefighting unit , with 15 firefighters, 2 firefighting vehicles, its associated and additional firefighting equipment.
We recommend our clients with logistical support of our two firefighting vehicles with security services, or as an additional criterion when choosing the best security provider.
UTILITY SERVICE


DOBERGARD expanded its activities and formed a communal service equipped with utility machinery (tractors, tractor mowers, trucks, utility machinery) and now we provide maintenance for green areas, cleaning of snow and other accompanying activities for maintenance of the circuit all year.

C

LEANING

S

ERVICES


A daily and periodic cleaning business and private facilities, procurement and distribution of supplies (napkins, paper, soap, air fresheners), polishing floors, general cleaning facilities.