SEPTEMBER 2023:
NEW PATROL TEAMS!


DOBERGARD equipped new fleet of patrol vehicles in 2023., for an even better and faster mobile security services!
All News You can see HERE

DOBERGARD Ltd. got the Police licences and fully harmonized business with the Law on Private Security , and all current and potential customers is available with complete service in the field of security.

- Because we are continuously since 2004.
- Because all the resources we have in the property (office building, vehicles, equipment ...).
- Because we have all licenses and certificates for security affairs.
- Because we additional assure all clients against damage.
- Because since 2004 we regularly pay taxes, workers, suppliers.
- Because we are a local company and all negotiate directly with the owner.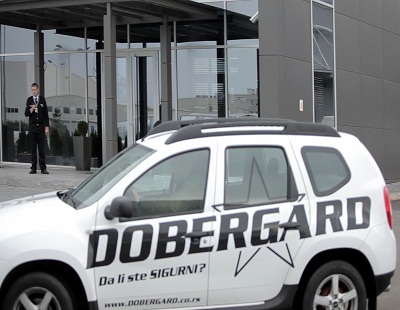 At the end od 2015., DOBERGARD is still No.1 - looking at new targets and growing!
YOURS 24-OURS SECURITY
- Best quality alarm system PARADOX - Canada!
- Providing the facility 00-24h, 365 days a year!
- Our cost of equipment, installation and networking!
- Monthly subscription starting from 9 eur /month!

Informations:
381 11 6557 144

Alarm-monitoring
Provide your office space, apartment, house or cottage 24 hours, 365 days a year.
We'll get, set and networking complete equipment, and maintain the same all the time of the contract.
All equipment includes an adequate number of PIR motion sensor, alarm siren, control panels,
alarm keypad to access the system, battery, power supply, cables, and material support, connecting the center.

Our Control Centre on duty 00-24h and monitor developments in all the protected objects.
If there is an alarm, we provide a quick release of the police and emergency teams, as well as notification of the owner.


* In the course of action is not paying for equipment, installation and networking, but only a monthly subscription for AM services.
* Offer lasts while stocks last.
For more information, call 381 11/6557-144

Alarm monitoring system
Dobergard officers