SEPTEMBER 2023:
NEW PATROL TEAMS!


DOBERGARD equipped new fleet of patrol vehicles in 2023., for an even better and faster mobile security services!
All News You can see HERE
DOBERGARD Ltd. got the Police licences and fully harmonized business with the Law on Private Security , and all current and potential customers is available with complete service in the field of security.

- Because we are continuously since 2004.
- Because all the resources we have in the property (office building, vehicles, equipment ...).
- Because we have all licenses and certificates for security affairs.
- Because we additional assure all clients against damage.
- Because since 2004 we regularly pay taxes, workers, suppliers.
- Because we are a local company and all negotiate directly with the owner.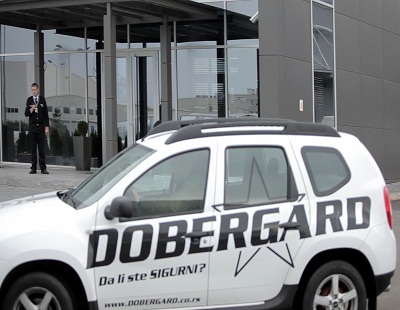 DOBERMAN KENNEL


Within DOBERGARD business complex, there is a kennel dobermans, by which the company carries the name. Kennel is registered International (FCI 3922).


SECURITY NUMBER 1 WITH DOGS IN SERBIA!
DOBERGARD with his official dog in Kennel RITOPEK is the first Serbian security company that is registered for the education and training of official dog at the International Federation Cynologique (FCI 1922 SRB)





DOBERGARD Doberman
DOG CENTER EXCELLENT ACCOMMODATION FACILITIES:
DOBERGARD offers excellent accommodation facilities for dogs in the administrative headquarters of Ritopek.

Here you can leave your dog during the summer and winter holidays, the official time in any other position when the short of it must be separated and be completely confident in their safety and quality of your pet.

Contact for informations and reservations: +381-64-642-9924.

Find more about us on www.DOGCENTAR.rs
OUR DOGS:
IN MEMORIAM

ROXIE ROXANNE AEGIDA
IDC World championship - final 4
MONTENEGRO CHAMPION
Ex 1 working class, Doberman cup BiH 2007
HD-A, B-BH, 5 x CAC,
ZTP Slo 2/I Excelent




ZAMBA OF RITOPEK
IDC World championship- final 4
BiH CHAMPION
MONTENEGRO CHAMPION
Ex 1 CH Doberman Cup BiH 2007
3 x PRM, 13 x CAC,
4 x RCACIB, 2 x BOB
RESERVE YOU DOBERMAN PUPPY!
011/6557-144

or