GROCKA CEREMONIES 2017.


DOBERGARD in cooperation with Grocka municipality, without any incident, provided anniversary 50th Grocka ceremonies, from July 26 to August 2, 2017 - over 50,000 visitors visited the rich cultural and artistic program, among which were Aca Lukas , Miroslav Ilic, Ana Bekuta, BIG BEND, Van Gog, Garavi Sokak ...
All News You can see HERE

- Because we are continuously since 2004.
- Because all the resources we have in the property (office building, vehicles, equipment ...).
- Because we have all licenses and certificates for security affairs.
- Because we additional assure all clients against damage.
- Because since 2004 we regularly pay taxes, workers, suppliers.
- Because we are a local company and all negotiate directly with the owner.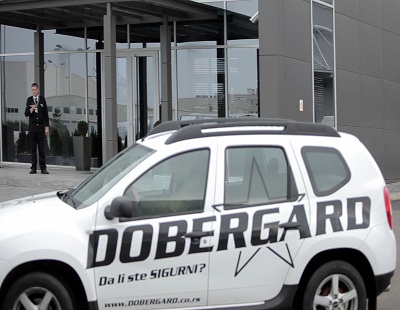 SECURITY OFFICERS
All officers DOBERGARD Ltd. are
- Checked (prior convictions),
- Psycho-physical ability,
- Trained in handling weapons,
- Trained in protection against fire,
- Trained in the handling of video surveillance,
- Trained in handling alarm system
- Trained in first aid,

If you want to be part of our company, love the uniform and honest professional call, and fulfill the above requirements, send your CV to kadrovi@dobergard.co.rs

DOBERGARD security officers
MANAGEMENT
The company is 100% domestic (Serbian) property.
The company is divided into Physical Security Sector and the Sector technical security and protection against fire, run by Department Directors. Managing Director is Dusan Djukic.



CONFEDERATION OF EUROPEAN SECURITY SERVICES
DOBERGARD as a member of the Serbian association of entrepreneurs in the private security, a member of the European Confederation of private security services.
As part of this prestigious European security organization, personnel that are part of the DOBERGARD-the most attention (continuous program of specialized training), and since in a high security most of the security depends precisely on the human factor.



DOBERGARD patrol vehicle

DOBERGARD

man guarding

DOBERGARD Doberman